The Amazing Kunekune pig
The Kunekune (Koonie Koonie) pig is as fun to raise and enjoyable to eat as it is to say. A rare heritage breed that originates from New Zealand, the Kunekune's small size and docile, friendly temperament make them the perfect breed for permaculture homesteads and small farms. Known for its ability to thrive on pastures loaded with grasses, clovers, and legumes, the Kunekune is an easy keeper. They are good mothers, easy to keep in large groupings, and don't tend to challenge fences or roam.
As a heritage breed lard pig, they grow slowly and without the need for excessive amounts of feed. They produce a naturally red colored and deeply marbled meet with an outstanding and rememberable flavor.
The Girls
The sows and gilts found here are the foundation of our breeding program. Whether we are breeding to create quality breeding stock, pets, or to harvest meat, these girls are exceptional in every way. At any given time we will have piglets for sale from several of these girls.
2.4% COI | AKKPS 1367 | AKPR 9370.
Paprika was the very first sow we acquired. She has a beautiful short snout, long body, and weighs in at about 200 pounds. She always gives us beautifully colored litters that are stout and healthy!
7.5% COI | AKKPS 8099 | AKPR pending.
She is so squishy! Keturah is another gilt that has stolen our hearts. She loves to follow us around the pasture and is such a "chatty Kathy"! She is a wonderful addition and we look forward to working with this sow line and the improvements we can pass onto other breeding programs.
9.7% COI | AKKPS 1654 | AKPR 13851.
Weighing in at 300 pounds, this sow is long and wide. She took second in the aged sow class at the Heartland Kunekune show next to the show's Supreme Champion!
2.9% COI | AKKPS 2425 | AKPR 9172.
The newest addition to MKONO, this girl is BIG! We just love the length and weight she is going to add to our herd. Look at the jowl and rolls on this mama! We are so happy she has joined the farm!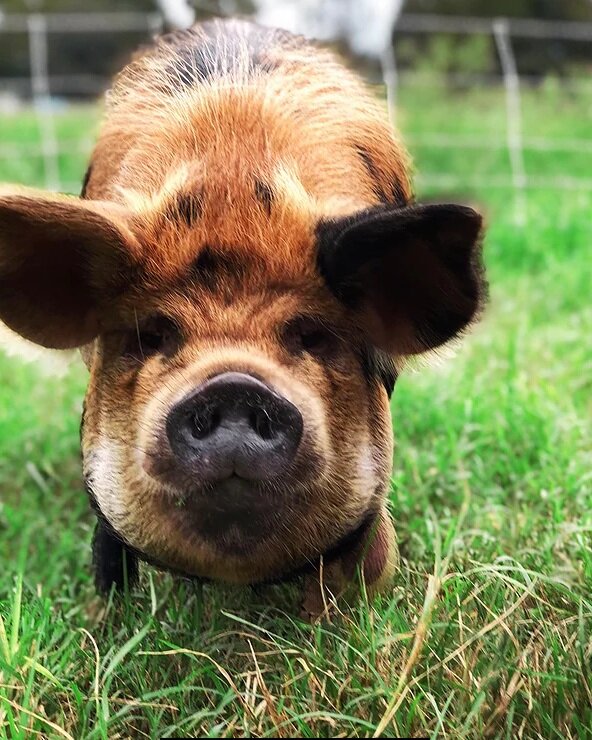 COI 11.7% | AKKPS 4098 | AKPR 9378.
Tikka, a.k.a "Tikka Sauce" stole our hearts quickly with her big ears and love of belly rubs. She is short, stocky, and compact. We love her temperament. As a first time mom, she exceeded our expectations.
12.8% COI | AKKPS pending | AKPR 12476.
She has won our hearts. Everyday with a full blown piggy gallop and ears flopping in the wind, she greets us for her daily belly rubs. We are looking forward to her adding her strong bone structure, length and size to our herd. Her mother and aunt are some of the largest Kunekune sows we have ever seen.
8.2 % COI | AKKPS pending | AKPR 12323.
Beautifully pedigreed out of champion bloodlines, we are excited about how this black and white gilt will add length and strength to our herd.
3.1% COI | AKKPS 1432 | AKPR 4061.
Coming to us from a wonderful farm in PA, we are thrilled and honored to have this amazing girl in our herd. She is a fantastic mother and oh so sweet.
3.2% COI | AKKPS 9170 | AKPR 4508.
Betsy is an amazing pig full of personality! She brings her beautiful face, length, and wonderful mothering skills to our herd.
5% COI | AKKPS 9177 | AKPR 10723
This girl is priceless and a character to boot. She just championed her age group at the Heartland Kunekune show and won the Carcass Merit Award for Cuts based on ultrasound measurements taken at the show. She has a wonderful long body, classic head type, and a big booty everyone enjoys talking about!
9% COI | AKKPS 9169 | AKPR 7256
This sow has a heart that is as wide as she is. With amazing bone structure and width, Dove is blossoming into a pig that we strive to recreate in each litter born here. She championed her age group in the East Coast Kunekune show and championed the Sow with Piglets class at the Heartland Kunekune show.
The Guys
Hand picked and chosen for temperament, structure, and their ability to pair nicely with the sows for incredible growth rates, these guys are a bunch of cuddle bugs. Get to know our special boys down below!
COI 5.4% | AKKPS 4487 | AKPR 9386.
This big love bug has our hearts here at the farm. Carrington adds a straight line and width to each of his litters.
COI 13.7% | AKKPS 8174 | AKPR 7959.
This midnight black fellow is adding amazing growth rates to every litter he produces. We love his friendly nature.